What is Roblox?
In this article, we will discuss how to get started with Roblox which is something that has taken kids all over the world by storm. Children see it as a way to play unlimited games; however, Roblox is more than that.
Roblox is a platform used by millions of people around the world to play and create experiences. They are called experiences because it's not only about games – you can explore cities, attend concerts, and even learn about robotics.
Benefits of Roblox
While Roblox is a lot of fun for the kids, it's also about learning. By playing some of the experiences, children get to build creativity, problem-solving, and critical thinking skills. Roblox is also big on shared experiences which means the kids can collaborate with others.
As their skills develop, children can then move on to creating their own experiences in Roblox using the Roblox Studio. Kids gain knowledge by creating these experiences but can go beyond that to monetize their creations and earn money when others play their creations.
How to get started
Creating an account on Roblox is very easy – all that is needed is a username, password, and age verification. If you are under 18, make sure your parent or an adult is aware that you are using Roblox.
Warning: Roblox doesn't need an email confirmation to sign up. This means that anyone – including your 6-year-old – can create an account without your permission or consent. While Roblox places limits on what accounts of kids <13 years can do/access, it may still not be enough. Parents need to be watchful of their children's online activity.
You can follow these steps to create an account on Roblox:
Step 1: Sign up
Go to the Roblox website and fill in the required details – username, age, and password. Do not use any identifiable information except for age which the Roblox team uses for verification purposes. For example, instead of using your child's real name for the username, use a nickname.
Parent tip: If your child doesn't have or know what a nickname is, this provides a good teaching moment for them.
If you are using a phone, you'll need to click on "Continue in App" and download the Roblox App from the Google Playstore (for Android) or the Apple store (for iOS).
Step 2: Verify email
Although Roblox doesn't require an email address for signing up, you will need to add one to set up parental controls, retrieve your account in case you lose the password, request for your (child's) account to be canceled, and so on.
To do this, click on either the gear icon at the top right (web) or the three horizontal bars (app) and then go to "Settings" and then "Account Info". You will see where to add an email and/or phone number.
When you have done this, Roblox will send a verification email to your email address. Click on the "I Agree, Validate Email" button to tie your email to the Roblox account.
Step 3: Set parental controls
Parental controls allow you to choose the correct settings that will manage what experiences your child can access.
To do this, click on either the gear icon at the top right (web) or the three horizontal bars (app) and then go to "Settings" and then "Parental Controls". You will need to enable and set a "Parent PIN" and also choose the "Allowed Experiences" for that account.
Tip: For the "Allowed Experiences", choose "All ages" for children below 9 years, choose "9+" for children between 9 and 12 years, and "13+" for all others.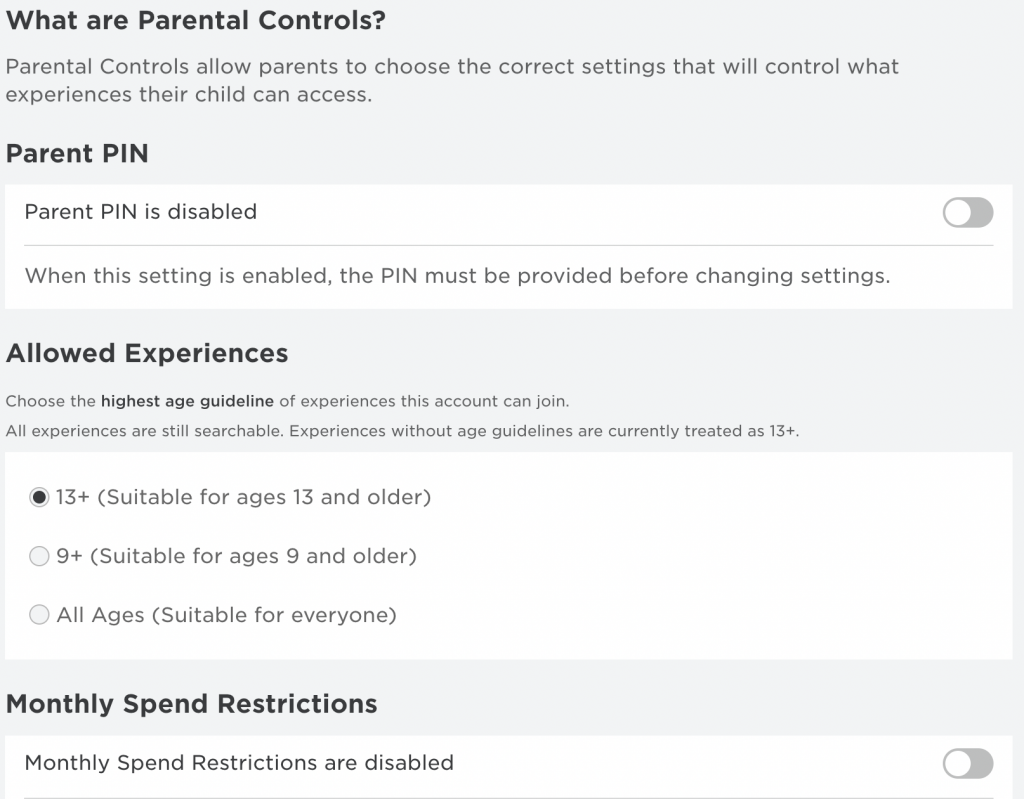 Step 4: Privacy settings
Since Roblox is open to everyone on the Internet, it is important to review the privacy settings of your child's Roblox account, specifically, who can communicate with your child.
To do this, click on either the gear icon at the top right (web) or the three horizontal bars (app) and then go to "Settings" and then "Privacy". In this area, you can set who can chat with your child (Everyone, Friends, or No one) and also who can invite them to join experiences.
Parent tip: The younger your children are, the more restrictive you may want to be about their online activities. In that case, you can turn chat off completely. As they get older and you keep reinforcing online safety/civility tips with them, you can let go of more controls and help them become independent.
Step 5: Download Roblox client
To play the experiences on Roblox, you use the Roblox client. This client can be installed on different devices including phones, tablets, and even computers.
If your child will be using Roblox on a mobile device, you can get the Roblox app from the App store or Play store. For those who will be using a laptop/computer, sign into the Roblox website from a web browser, and click on the "Open" button at the top of the home page. This will prompt you to download and install the Roblox client.
Step 6: Play experiences
Once the account is all set up, it's time to have fun playing experiences. You can either search for an experience or play one of the ones recommended on the home page. Here are some experiences that we have found to be really fun and/or educational:
Parent tip: Carefully review the experiences your children access. Also, have conversations with your children to get an all-clear from you first before accessing any experience.
Frequently Asked Questions about Roblox
In this section, we answer some of the common questions that parents have about Roblox.
Is Roblox safe for my child?
Like everything online, parents need to keep an eye on their children's activities. So while Roblox is fun and can be very educational, there are still bad actors on there that the kids need to be careful about.
How can I keep my child safe while on Roblox?
Setting up parental controls and privacy settings is the first thing to do. Also, have conversations with your kids about online safety and civility. Here are some tips you can give them:
Don't talk to strangers
If something doesn't feel right, tell an adult. Roblox also allows you to report and block users
Don't share your personal information like your real name, your date of birth, phone number, where you live, your password, and so on
Play only age-appropriate experiences
Don't be a bully or share information that you know to be false
Don't click on suspicious links or websites like those offering free rewards or asking for your account information
You can also read our article on "Keeping your children safe online" for more general-purpose tips.
Can I monitor what my child is doing on Roblox?
Yes, Roblox allows you to view the history of different aspects like messages, experiences played, friends, and so on. You can read more here.
Is Roblox free?
Roblox is free to use and download. However, there are some things (e.g. costumes, in-game upgrades, etc.) that you may choose to buy using Robux (the digital currency spent in Roblox). You buy Robux using real money.
Who creates the experiences on Roblox?
Roblox users create all the experiences that you see on Roblox. Many of these experiences are created by kids but there are also game development studios that create experiences and earn money from users playing.
For more questions and answers, you can visit the Roblox FAQs for Parents.
Summary
As we have seen in this article, getting started on Roblox is very easy, perhaps too easy for children. However, with the proper settings (parental controls and privacy restrictions), Roblox can be a fun, entertaining, and educational platform for your children to explore.
At earlySTEMer, we help get your kids started on the digital skills that they need to succeed in today's world. Our Exploring Roblox course is suitable for complete beginners, teaching them how to navigate the Roblox platform and play experiences that develop their creativity, critical thinking, and problem-solving skills.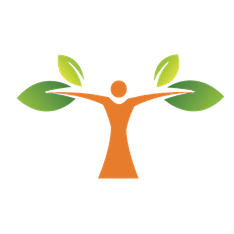 earlySTEMer is a platform where kids between the ages of 6 and 18 can learn practical technology skills such as Coding, Web design, and Robotics. Kids can learn in one-on-one virtual sessions with a tutor, or through our instructor-led Virtual Group Classes, or learn at their own convenience through our Self-paced plans.