Introduction
When I was about 14 years old, I received an email from someone looking for friendship. It was the early days of Internet penetration in Nigeria when we used Starcomms modems to connect to the Internet. I was excited that someone from a different country wanted to be my friend. We exchanged emails back and forth until I received one asking for some amount of money so that they can come to visit me in Nigeria. I told my older uncle about it who informed me that I was likely the victim of catfishing, a type of online scam.
This example highlights the fact that while the Internet is a great resource for information, entertainment and learning, it can also be a scary and dangerous place for the unsuspecting. This is true for adults as well as children; however, children are generally more susceptible to online abuse because they are not as socially experienced as adults. Therefore, in this article, we will discuss some online safety tips for kids including:
Online Safety for Kids
Being in a digital age, our children are exposed to the Internet earlier than most parents were. In this section, we will highlight some of the things we can do to protect our kids from online threats such as cyberbullying, predators, malware, and harmful/inappropriate content.
Online Safety Education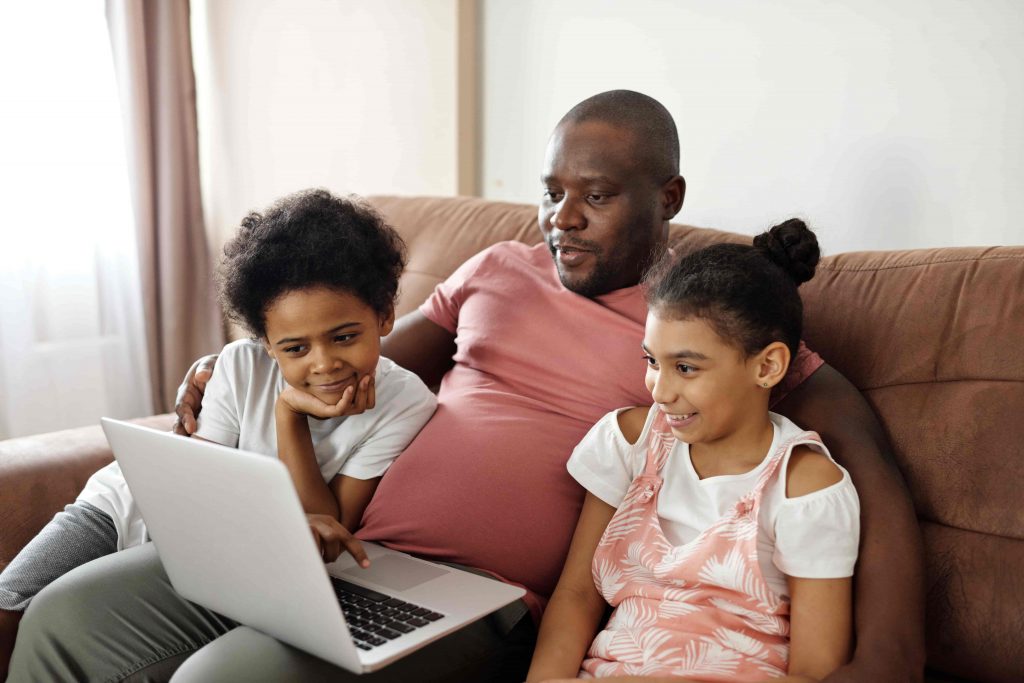 No technology is 100% effective and the weakest link in any security system is usually human beings. This means that the most reliable tool for online safety is User Education. By having conversations with your kids about the Internet (both good and bad), you can teach them to identify safe and unsafe behaviours.
Here are a few safety tips to talk to your children about when they are going online:
Do not talk to strangers online. This tip is effective both online and offline. Of course, as the children get older (teenagers), this would need to be refined to: "Be careful who you talk to online".
Never share your personal information online. It is okay to talk about your first name and even the country you live in. However, kids should learn never to share full details about themselves such as their date of birth, full name, house address, phone number, and so on.
Keep your passwords to yourself (and your parents).
When you see something that doesn't feel right, close the page. This includes pornography, gambling, or any adult-rated content.
Be careful with the videos you watch. Nowadays, even cartoons that are rated for children have inappropriate content in them. Parents need to define what "inappropriate" means for them and communicate this clearly to their children.
Understand that whatever you post online is probably going to be there forever. Children shouldn't post photos publicly and teenagers need to learn to control the content they put out there.
Do not click unknown links or open attachments from unknown senders. This is typically how malware infects our computers.
If you see or experience anything that makes you uncomfortable, tell a trusted adult about it.
It is important that as children are being taught these safety tips, parents should also provide monitoring to help the kids navigate their online life. Perhaps, having a desktop computer in an open area of the house will work for you. Alternatively, you can practise "passive listening" as the kids are watching their cartoons.
Child-friendly Websites
Recognising the need to protect children, there are many websites and web services that are child-friendly. Here are a few examples in different categories:
There are other sites that are not made just for kids but have safety features for kids. For example, Google has a SafeSearch feature that can be enabled to filter explicit content. To enable this feature on a computer, go to SafeSearch settings and toggle the Explicit results filter button: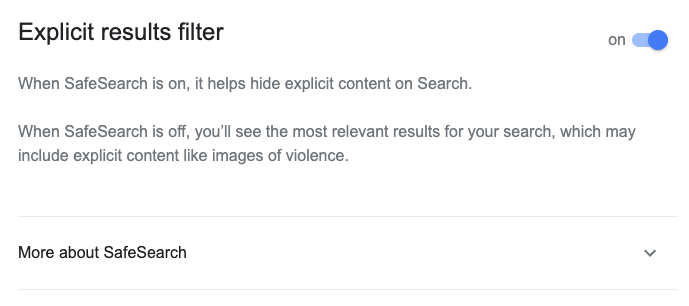 Another example is YouTube which has a Restricted Mode setting that can help filter mature content. You can follow this help article to learn how to enable it.
There are two important things to keep in mind about these child-friendly websites or websites that have child safety features:
There is no tool or feature that is 100% effective so do not rely on them completely
Different people/organizations have varying ideas about what is child friendly which may or may not align with your own values. Do your research and pay attention to what your kids are doing online.
As a final note on this topic, there are websites that provide useful reviews about online content such as websites, games, and movies. One of our favourites is Common Sense Media, a not-for-profit that provides age-based reviews for families.
Parental Controls
One of the tricky things parents will need to navigate when it comes to the online safety of their kids is balancing trust and control. Children need to know that you trust them enough to follow the safety rules you have discussed with them. At the same time, it is a parent's responsibility to be in control of their children's safety.
We don't have any one-size-fits-all wisdom to give in this case. However, we offer our opinion from experience dealing with kids. Generally speaking, the younger the child, the more control you want to have over their online activities as you keep educating them on online safety. As they get older, you need to start giving up control and trusting them more (while still operating in a monitoring role).
Some of the things you can do with parental control include:
Limiting what app/website can be accessed
Setting screen time limits
Enabling authorization before an app can be downloaded or installed
Filtering the type of content that is accessible
Monitoring online activity
Here are a few examples of the tools/apps that have parental control features: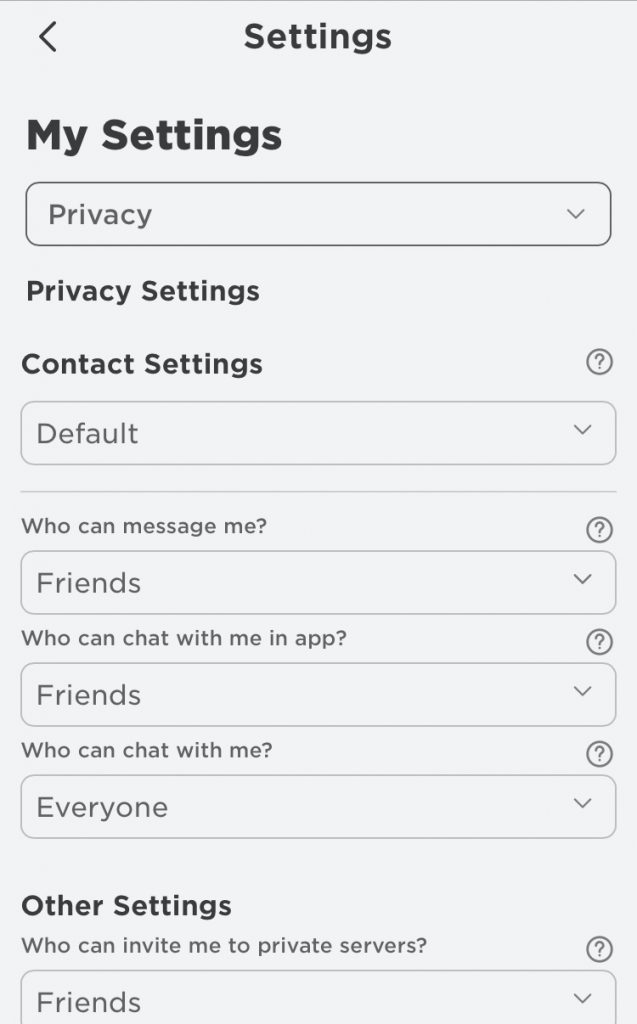 Online Safety Tools
Lastly, there are tools and technologies that have been developed to help keep your child safe online. As earlier mentioned, you need to balance trust and control as some of these tools can be quite restrictive.
Here are some of those tools:
Ad blockers such as AdBlock can help prevent unwanted and sometimes dangerous content. Some sites rely on ads (like newspapers) so you may want to allow ads on those sites (if your children use them).
Many antivirus software now have some form of internet security feature and even features for kids' safety. For example, Kaspersky has the Safe Kids product.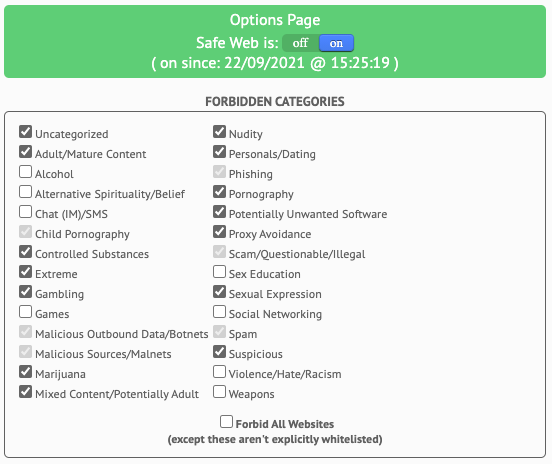 Beware that these programs can sometimes flag safe sites as unsafe due to issues in their categorizing algorithm. In such cases, you may have to add a manual override.
Conclusion
As parents raising children in this technology age, we want them to be digitally literate while also keeping them safe from online abuse. Educating our children about safe online practices along with implementing safety tools and parental controls will allow parents to keep their children protected while also teaching them to be independent.
At earlySTEMer, child privacy is at the core of who we are. Children can only chat with our adult tutors to get help and parents can view these messages at any time. Student-to-student communication is restricted to moderated forums. We ensure that there is mutual respect between participants in our Virtual Group Classes. Finally, in those instances where we miss it, we are open and honest in our communication and apology.
We'll like to hear from you. What other measures do you put in place to protect your children online? Also, if you have a particular topic you would like us to address, let us know in the comments section.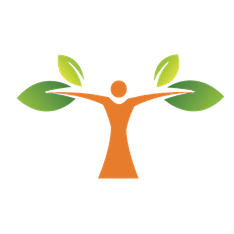 earlySTEMer is a platform where kids between the ages of 6 and 18 can learn practical technology skills such as Coding, Web design, and Robotics. Kids can learn in one-on-one virtual sessions with a tutor, or through our instructor-led Virtual Group Classes, or learn at their own convenience through our Self-paced plans.